posted by jordan

August 26. 2016
Here are Marketplaces Inc, we leverage the power of other technologies where possible to build our robust platform and save your costs.  One of the forgotten costs of e-commerce is emails, although you may have free email from Google or Outlook it is actually not free nor easy to send emails from websites.
We use Amazon's SES email service to send all our automated marketplace emails, and provide this service as part of your monthly subscription with us. The only catch is that we need to verify all email addresses before we can send from them.
Typically automated emails come from an non monitored "no-reply" email address.  You of course use an email address that you do monitor if you wish, either way we need an address that exists and can be verified.
In your marketplace settings you will see a field for Automated Email Address. This is the email account that all automated platform emails such as Account Registration, Sale Confirmation, etc. will be sent from.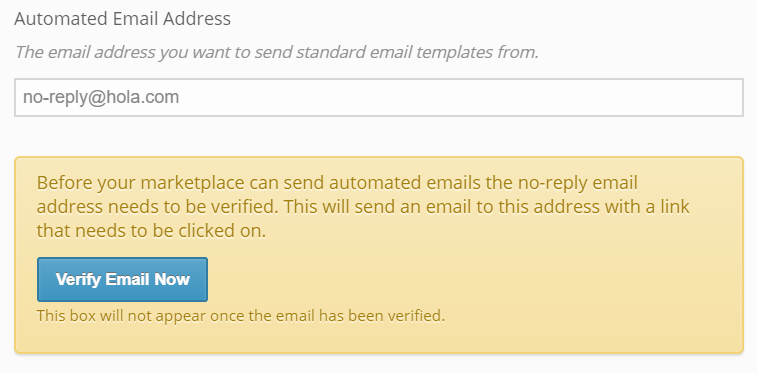 When you supply this value you must click on the Verify Email Now button. This will cause and email to be sent to the provided address from Amazon Web Services.


This email contains a URL on which you much click. This will complete the email verification process and your marketplace will now be able to send automated emails.